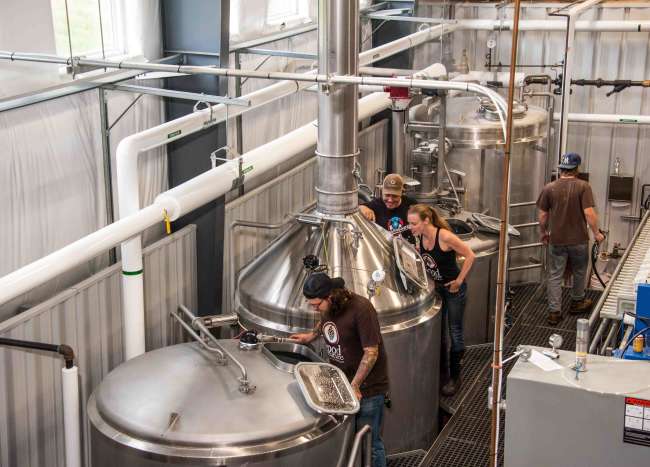 Malt, Hops, and History
By Jamie Bogner (Adapted from "Beercation: 'Brew' Central New York," originally published in Craft Beer & Brewing Magazine® and on beerandbrewing.com)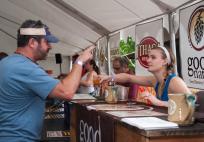 Thanks to the efforts of smart industry leaders, sympathetic politicians, a tight connection between agriculture and brewing, and creative brewers themselves, the center of the Empire State is becoming a beer destination in its own right. A hundred years ago, the hills of Central New York—from Syracuse to Cooperstown and beyond—were covered in hops farms. For a significant time in the American history of brewing, it was the place to grow the bines that produce those bitter little cones. Then something horrible happened—an outbreak of downy mildew decimated the 1909 crop, and an infestation of aphids in 1914 was enough to convince most of the major farms to shift gears. By the time Prohibition rolled around, the hops farms were mostly gone, and production shifted to the Pacific Northwest. Farmers planted other crops or switched to dairy, as hops became a footnote of New York State history, buried under layers of soil now fertilized by gentlemen's farms. But hops are a hardy plant, and like them, New York's homespun beer heritage might have gone dormant for a while, but it was just biding its time, waiting for more favorable conditions.
Today, through the hard work of politically active brewers, civic minded legislators, a forward thinking governor, and new laws built to support the brewing industry throughout the state, New York is reclaiming its beer heritage, and the heart of that reclamation effort beats in the center of the state, in an area recently dubbed "Brew Central New York."
What sets New York apart from other centers of beer culture around the country is the legislative activity of the brewers' guild, and the relationships they've built in Albany, the state capital. In 2016 alone, four new laws benefiting craft brewers went into effect, cleaning up difficult rules and regulations from prior legislation, and making it easier to build and grow a craft brewery. In 2012, Governor Andrew Cuomo signed the Farm Brewery bill—a sweeping piece of legislation aimed not just at promoting the growth of brewing in the state, but of all
the attendant industries as well—agricultural production of hops and barley, malting, etc. Under provisions of the law, it's very easy to get a farmhouse brewery license, with
the caveat that by 2024, 90 percent of the hops and malt used by the breweries must be grown in New York State. While this might sound like a pie-in-the-sky ideal, the real world consequences are phenomenal. In 2013, hops acreage in New York State was so small as to not be tracked by the Hop Growers of America. In 2014, that acreage grew to a reported 150 acres, and in 2015, it grew again to 250 acres. While this is a drop in the bucket compared to the PNW powerhouse states of Washington, Oregon, and Idaho, in 2015, New York State
accounted for 20 percent of all U.S. hops grown outside of the PNW, and as a state is fifth in production overall. The legislation has kick-started nothing short of a top-to-bottom supply chain revolution, and brought with it a revolution in craft brewing in Central New York.
Cazenovia
Southeast of Syracuse, in the small town of Cazenovia, Empire Brewing recently realized their vision and opened their farmhouse production brewery. This gorgeous new facility is thoughtfully d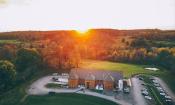 esigned to help the brewery work with the environment around them, from the acre or two of hops trellises they've planted in front of the brewery to their spent grain transport system.  While most breweries have to truck their grain out to farmers for use as feed, Empire's brewery is located exactly across the street from the farm where the American Wagyu beef they serve is raised. A pipe draws the used grain from the mash tun where it's deposited in a hopper attached to a tractor that drives it across the street when full, tightening the circle of reuse and sustainability. Everything from the beer to the food to the décor is well thought out, and the twin turntables in the taproom attached to locally made McIntosh tube amps are a touch that any audiophile will appreciate. For a casual lunch, stop by the historic Lincklaen House and head to the basement pub for a step back in time.
Munnsville
 Farther east in Munnsville, stop by Foothill Hops Farm where Larry and Kate Fisher put their first hops in the ground back in 2001. If you're a fan of industrial engineering, ask to   see Fisher's homemade wolf picker and hops separator; his day job running an engine repair business prepared him well for the challenge of building his own machinery for hops   harvesting  and processing. Fisher now boasts several acres of hops, and [has opened] a brewery and taproom in addition to the homebrew shop at the farm.                                   
Bouckville
Just to the south, Mosher Farms offers similar fields of hops trellises along with a farm stand with seasonal fresh veggies.
Hamilton
Continuing south, you'll soon arrive in Hamilton, home of Colgate University and more small-town New York that will take you back in time. The gorgeously appointed Colgate Inn is just one place to stay—the recently renovated rooms are stylish, and the first floor pub boasts expertly crafted food and a beer list that will floor you. Across the street, you'll find the taproom for Good Nature Farm Brewery & Taproom. [They've built] a new brewery and tasting room closer to the Colgate campus (Photo at top), but still operate the cozy taproom featuring a wide range of their beers. No matter where you go in Central New York, you'll find one thing that makes it stand out—the proximity of the agriculture that supports brewing (hops, malt, apple trees, and more) and the brewing process itself. That tight loop and close interaction between the growers of the ingredients and the makers of the end products, is what earns them the "Brew" in "Brew  Central New York."