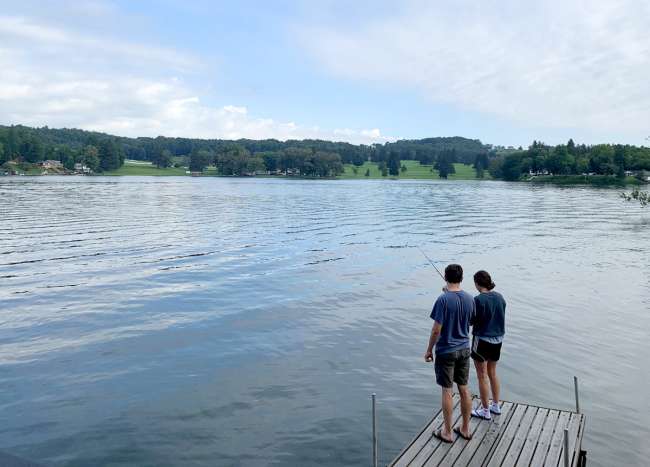 Find Your New Perfect Spot
A big part of fishing is finding a beautiful, quiet spot for solitude, or having fun in the company of friends or family and escaping for a while to recharge and relax. Finding the perfect pond, riverbank, stream, bridge or fishing hole is a great American tradition, and Madison County offers an amazing variety of the best family friendly public fishing spots to discover. From the tried-and-true to a new addition to our park system, get your gear and check out any or all of these fishing spots, and make them a regular part of your outdoor fun.
---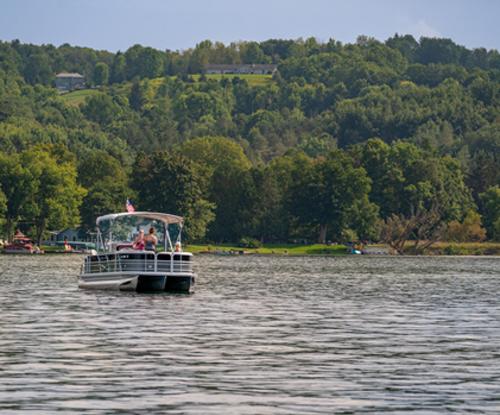 This reservoir is known for its large chain pickerel (up to 24 inches), largemouth bass in the 12 to 20-inch range, panfish like yellow perch, and brown bullhead in early spring. You can also find tiger muskie, walleye, black crappie, pumpkinseed sunfish, bluegill, redbreast sunfish, and rock bass.
---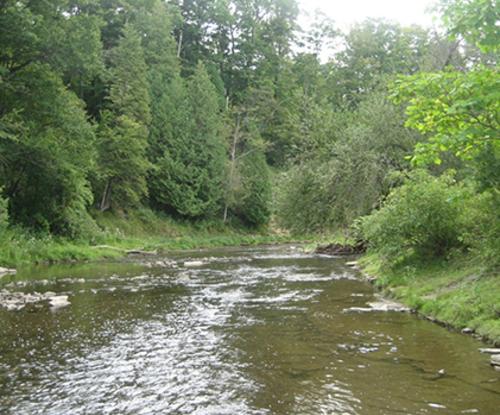 Chittenango Creek offers a wide variety of opportunities for the trout angler. The upper section is not stocked, but anglers can find wild brown trout and an occasional brook trout there. There is a stocked-section from Ballina Road downstream to Route 20 in Cazenovia. From there downstream to the Town of Fenner-Town of Sullivan town line is a stocked-extended section, followed by a 2.2 mile section of the stream that is catch and release only (C&R) which ends at mile marker 1237. Downstream from there and into the village of Chittenango is another stock-extended section of stream. The stocked-extended and C&R section are stocked four times with brown trout during the spring season. With Route 13 bordering the stream there is also ample public access.
---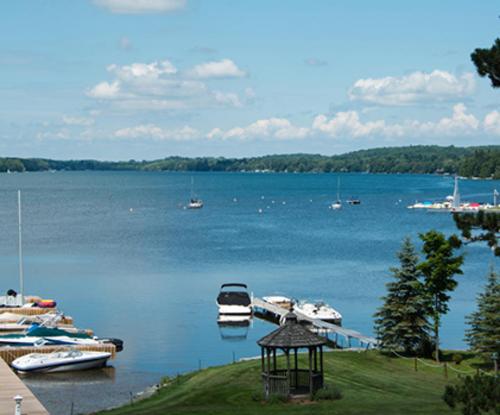 In this beautiful lake, you'll find largemouth bass commonly in the 15-inch range (up to 20-inches), along with chain pickerel. A sunken island (or hump) about halfway up on the east side is a good location for bass. Try the north end of the lake for ice fishing for black crappie and bluegill (both around during the day), but fish after dark if you're trying for crappie, keeping in mind that McNitt State Park closes at 9:00 PM. Yellow perch are harder to find, but often run in the 10- to 12-inch range. Rock bass are plentiful and grow large in the lake. Anglers can also find smallmouth bass, an occasional walleye, pumpkinseed sunfish, and brown bullheads. Cazenovia Lake was chosen as one of the New York State Department of Environmental Conservation's Big Panfish Initiative waters and has a special regulation for sunfish (bluegill and pumpkinseed) of a daily limit of 15 fish, with a minimum length of 8-inches.
---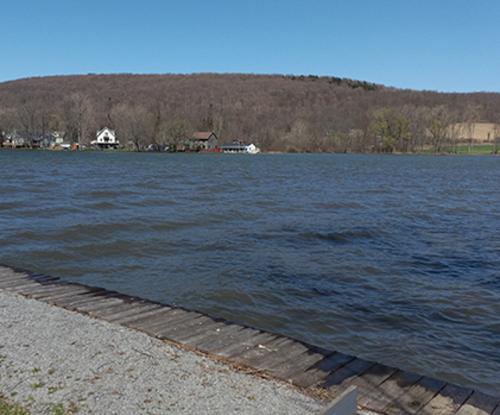 Trolling for walleye can help you find this elusive fish on the lake. You'll find largemouth bass in large numbers (many in the 14- to 15-inch range), along with chain pickerel (use a wire leader if fishing around vegetation). Anglers also visit the lake for smallmouth bass, black crappie, pumpkinseed sunfish, bluegill, rock bass, yellow perch, and brown bullhead.
---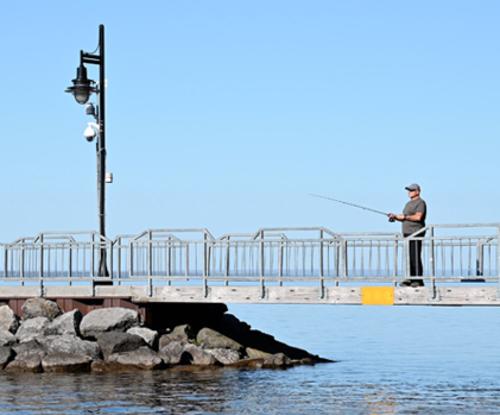 This lake is rich in fish life and is best known for its walleye and yellow perch fishery. For walleye: try shallow water near tributaries in the spring, deeper water in summer, and the shallows again in fall. Great walleye fishing can be found from shore, after dark, when they are shallow with stickbaits and blade baits. You can also find walleye ice fishing around shoals, drop-offs and deep-water flats. Ice fish for yellow perch around deep-water flats in 30-40 feet of water.
Oneida Lake is also known for its bass fishing, and many fishing tournaments are held each year on the lake, including those for professional organizations like BASSMASTER, Major League Fishing (MLF), Bass Pro Tour or Tacklewarehouse tour. You can find smallmouth bass around the many shoals, and largemouth bass in the larger bays and near any good vegetation growth. Panfish can be found anywhere in the lake. Big Bay is a popular ice fishing location for panfish.
Oneida Lake also contains chain pickerel, northern pike, tiger musky, bluegill, pumpkinseed sunfish, rock bass, black crappie, freshwater drum, common carp, bowfin, burbot, longnose gar, lake sturgeon, gizzard shad, and round goby.
Avoid targeting lake sturgeon, which are on New York's threatened species list and cannot be fished for or possessed.
---
Because of its small size and high elevation, this gorgeous location in Erieville is one of the first lakes in the area to ice over and is a popular early ice fishing spot. Since the pond is located on a seasonal road that is not plowed, in years of deep snow it can be hard to access. Though there is shore access at the launch site and along the dam, fishing in Stoney Pond is best accomplished from a kayak or canoe. Panfish are abundant but run on the small side, with the occasional fish reaching 8 inches. The pond is also host to largemouth bass, chain pickerel, black crappie, pumpkinseed sunfish, and bluegill.
---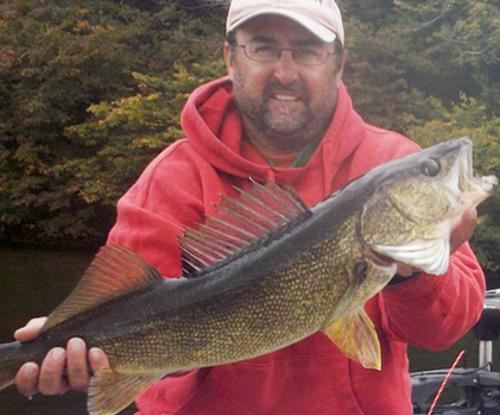 This reservoir's steep sides and very clear water can make fishing challenging. Veteran anglers target brown trout shortly after stocking in the spring and do occasionally catch hold-over fish during winter ice fishing. The reservoir's walleye can be difficult to catch, but worth it as they're often in the 20+ inch range. Largemouth bass are more plentiful than smallmouth, with both being common in the 13- to 15-inch range. Chain pickerel are abundant, but harder to find at legal length. You'll also find black crappie, pumpkinseed sunfish, bluegill, rock bass, yellow perch, and brown bullhead.
---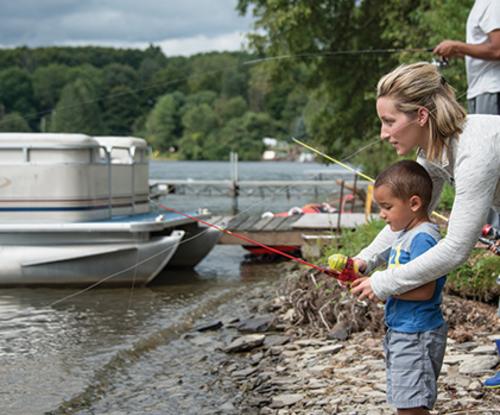 Lebanon Reservoir is home to a two-story fishery with rainbow trout as the main cold-water gamefish, and largemouth bass the main warm water species. Anglers normally target the trout shortly after spring stocking, as well as during ice fishing in the winter. Ice fishing for panfish like yellow perch and bluegills is also popular. Black crappies caught through the ice are rarely over the legal length. Largemouth bass in the 12 to 14-inch range are plentiful, and some 20-inchers are caught each season. The reservoir also contains walleye, pumpkinseed sunfish, rock bass, and brown bullhead.
---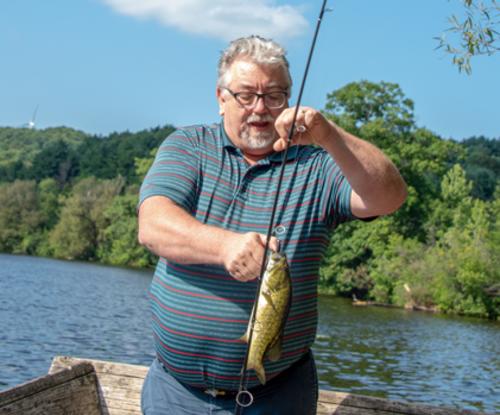 Upper and Lower Leland Ponds are connected by a culvert channel under the highway. Though too small for boats, it does allow fish to move between the two ponds. Upper Leland contains a limited cold water fishery for brown trout, along with warm water game fish such as largemouth bass. Lower Leland is shallower with more weeds, and thus more hospitable to plentiful largemouth bass in the 12- to 15-inch range, and even some 20-inch fish are caught each year. Though panfish are plentiful, most are smaller than 8 inches. Tiger muskie are stocked, but only sporadically caught. A few nice 40+ inch fish were caught in 2021. Alewife are one of the main prey species in both ponds, which are also home to chain pickerel, brown trout, black crappie, pumpkinseed sunfish, bluegill, redbreast sunfish, rock bass, yellow perch, brown bullhead, and common carp.
---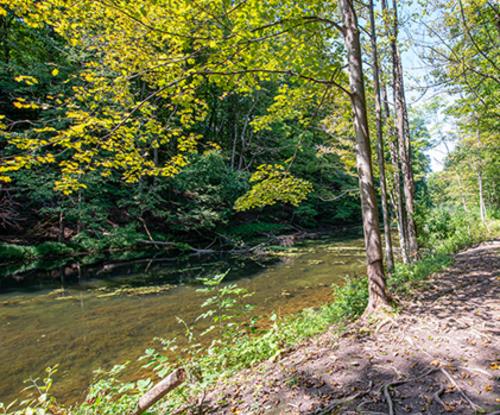 Mount Hope features 65 acres of land for fishing, hiking, mountain biking, cross country skiing, and camping, and was home to Oneida's first swimming hole back in the 1940s and 1950s. The most popular species caught in the reservoir is largemouth bass and anglers favor the early morning for best luck.
---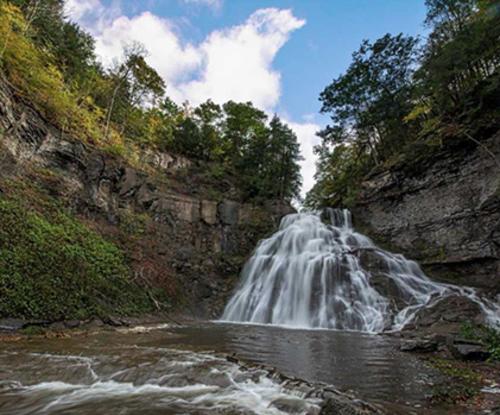 Opened to the public in August 2018, Delphi Falls County Park is home to a two-tiered waterfall, surrounding woodland, and in the near future, a trail system. The falls are accessible from the bottom via a stone dust path. There is parking just inside the gate, with three ADA accessible spots near the barn.
---
Beaver Creek State Forest totals 3,484 acres and makes up the northern section of the over 100-mile Brookfield Trail System. Several streams in this gorgeous state forest are of suitable size for fishing.
---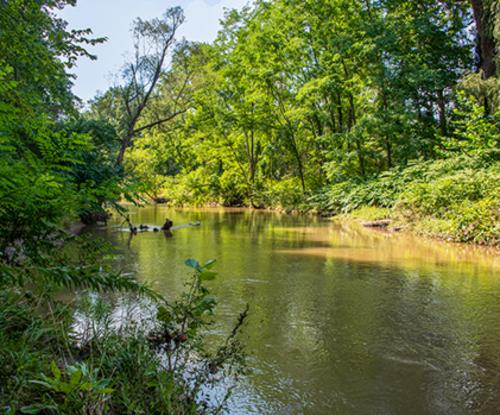 This natural gem contains 18 acres of hiking, mountain biking and fishing from spring to fall, with cross country skiing and snowshoeing in the winter.
---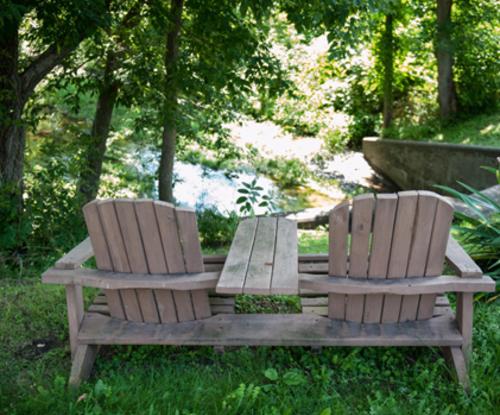 The Chenango Canal is considered challenging to fish because of the abundance of aquatic vegetation and woody structures throughout the stream. For most of its length the canal's banks are lined with trees and brush. Avid anglers can find brown trout and white suckers in the canal. The Chenango Canal is managed under the Wild-Premier category with an open season of April 1-Oct. 15, with a daily limit of one trout of any size. There is also the Oct. 16-Mar 31, catch and release only, artificial lures only season.
---
One of Madison County's newest public lands is 9-Mile Swamp Access Area in Hamilton, home to a future park. Comprised of more than seven beautiful acres of land on Wickwire Road, 9-Mile Swamp has river access to the Sangerfield River and 9-Mile Swamp. Learn more and explore this new treasure.
---
Plan Ahead With Helpful Resources
Trout Stocking Guide
Want to know when, what, and where certain fish species are being stocked? Check out this handy guide from our friends at the New York State Department of Environmental Conservation.
---
Fishing Access Map
Before you head out, learn where you can park and how to access popular fishing spots by visiting the DECinfo Locator, for the most up-to-date details.
---
Madison County Outdoor Guide
Discover fishing locations, as well as other outdoors activities, all across Madison County. Request your free Outdoors Adventure Map today!
---
Fishing in Madison County. It's In Our Nature.