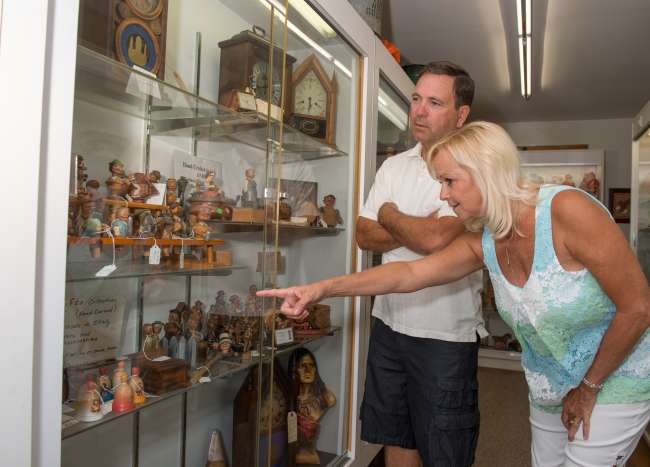 By Mike Jaquays
Throughout the year, antique and collectibles shoppers visit the world-famous Route 20 corridor from Madison to Bouckville, many becoming quite friendly with vendors and fellow shoppers alike. The resident dealers, shop and showfield owners, and the visiting vendors who come in for larger show events, have built up quite a community spirit with their clientele. "It's almost like family coming back to visit," said Craig Williams, owner of Butternut Hill Antique Showfield.
That makes shopping along and around Route 20 as much a social experience as a quest for the perfect home décor, gift, or treasured memory of the past. Some dealers offer items in specific categories, like Petroliana gas station memorabilia, vintage Lionel trains, record albums of the past, old-time action figures and dolls, or decorative glassware. Other vendors have mixed displays, including anything from vintage furniture, books, and old tools, to sporting goods, home furnishings, and musical instruments. There are countless rarities unlikely to be found anywhere else, as well as repair parts for vintage items, not readily available in today's stores.
In addition to shops that are open year-round or nearly year-round, the showfields bring in dealers from all over the country during the region's two big events, the June Show—the opening gala of their summer shopping season—and the annual Antique Week extravaganza in August. Hundreds of visiting dealers and collectors come to town during the June Show with items they have added since their last visit. That population swells to more than 2,000 vendors looking to sell their best wares during Antique Week.
But for visitors, it's not just about the shopping experience of the Route 20 corridor. There are plenty of places to eat and stay that add to the fun. Eating a path through the Madison-Bouckville corridor is a big part of the festivities. An overnight stay helps extend the experience over several days, and makes for a less hectic and more enjoyable and relaxed shopping—and eating—trip.
The year culminates in a grand finale with the Holiday Open House every November, where local dealers bring out their colorful decorations, heat up some hot chocolate, and welcome guests shopping for the perfect holiday gifts for friends, family, or themselves. "That event might be the most social of all," said Lynn Harvey, owner of Victorian Rose. "We like to put this on because it is a fun and festive time to talk with people," she said. "Community involvement is so important in an event like this, and we hope we have a lot of people coming out for the open house. For me, it's like saying, 'Thank you.' We want to let people know we appreciate them coming to our shops during the year
For more information on upcoming Madison-Bouckville antique events, visit Madison-Bouckville.com and MadisonTourism.com/Bouckville