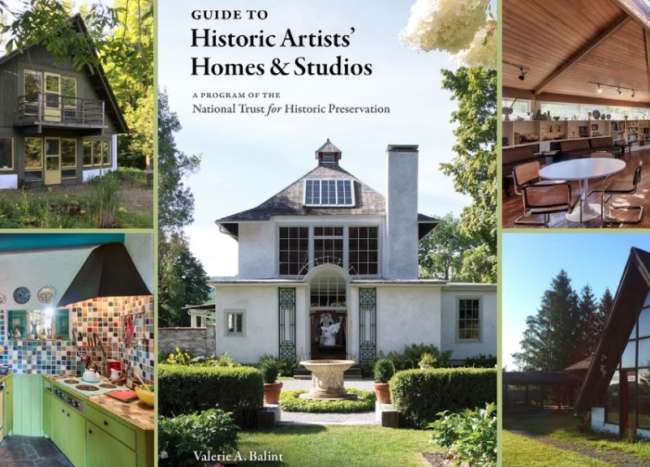 The Arts & Culture and Historical sites of Madison County are joining sites across the nation to celebrate Preservation Month this May by holding numerous events centered on historic preservation and heritage tourism.
And here are some of the Preservation Month activities planned in Madison County:
READING the LANDSCAPE of the GERRIT SMITH ESTATE 
Where:  Gerrit Smith Estate National Historic Landmark, 5304 Oxbow Road, Peterboro
When:  Saturday May 1 at 2pm
The Gerrit Smith Estate National Historic Landmark invites the public for a guided spring walk on the seven acres of the historic property to examine the trees, plants, soil, ecosystems, depressions, and many other aspects that provide information that assists in Reading the Landscape. 
The Underground Railroad and Black Americans in Peterboro exhibits will also be open at that time. 
For more information, click here.

Street by Street: Virtual Launch Party
Where:  Online via Arts at the Palace
When:  Saturday May 1 at 7 pm
Join the project directors, host, storytellers, musician, and technical team of the Street by Street project for an informal conversation about the process of creating the podcasts.
Street by Street seeks to explore and document the genius loci (spirit of the place) of the Village of Hamilton. With a rich memory of a rerouted canal, stagecoaches, railway lines, and a great fire, Hamiltonians have stories to tell about the people, buildings, and events that have made a community.
For more information, click here.

Preserving the Mansion House:  A History of the Building and Insights into Current Preservation Work
Where:  Zoom via Oneida Community Mansion House
When:  Tuesday May 11 at 7pm
Join us for a lively discussion over Zoom about an overview of the building's architecture and history, a look at recent preservation work and a preview of upcoming projects followed by Q&A.
The event will feature Jonathan Pawlika, Board Chair; Jamie Trevvett, architect with Bell & Spina and Board Secretary; Mike Colmey, OCMH Director of Building and Grounds; Carolyn Strobel, Kenwood Benevolent Society Board, and Christine O'Neil, Executive Director.
For more information, click here.

Architecture Tours
Where:  Presented By: Oneida Community Mansion House, 170 Kenwood Ave.
When:  11am on May 15, May 19 and May 22
In honor of preservation month, join us for an outside, guided architecture tour led by OCMH docents. This tour dives into the history of the architecture and evolution of the National Historic Landmark building and will share updates about upcoming preservation work and the needs of the building.
This tour will be held outdoors, so be sure to plan for the weather and wear comfortable shoes!
For more information, click here.

Mid-Century Matters: Understanding the Architecture of an Era
Where:  Online via Stone Quarry Hill Art Park
When: Tuesday May 25 at 2pm
What does it mean to characterize something as mid-century modern? Is it a style? An era? A fad? The popularity of this movement endures on the strength of its clean, simple lines and honest use of materials. 
This session, guided by Kyle Gregory, a senior architect with Ashley McGraw architects in Syracuse, will look at the cultural, technological, and economic factors that influenced the development of various architecture and design genres that characterize this era.
For more information, click here.

Artful Living: Illustrated Author's Talk with Valerie A. Balint
Where:  Online via Stone Quarry Hill Art Park
When:  May 11 at 2pm
Art Park founder Dorothy Riester's life and career are perfect examples of the integration of art and life. She and husband Robert created a holistic and multi-media work of art at Stone Quarry Hill, bringing together home, landscape, art, and life philosophy. 
Join Valerie Balint, senior program manager for Historic Artists' Homes and Studios in a discussion that places Dorothy, and Hilltop House at Stone Quarry Hill, in the context of other preserved sites of major American visual artists.
For more information, click here. 
 
Preservation Month is an initiative of the National Trust for Historic Preservation that, in part, seeks "…to provide an even greater opportunity to celebrate the diverse and unique heritage of our country's cities and states."