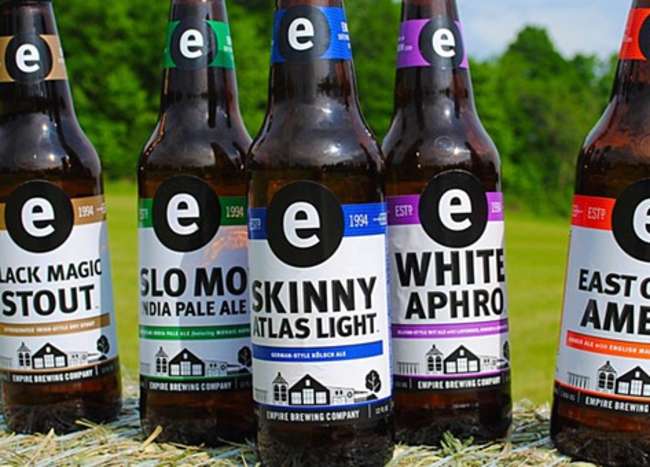 China hosted their first ever China Craft Beer Awards (CCBA). Over 100 craft beers were entered in 17 categories, along with 40 media guests, in Beijing, China. David Katleski and Tim Butler of Empire Brewing Company were among the carefully selected panel of judges.
David Katleski, founder of Empire Brewing Company, Tim Butler, Director of Brewing Operations, Jing Zhang, Export Specialist, and Monica Palmer, Design Director, journeyed to Beijing for the four day trip. Katleski and Butler were the only Americans on the professional judging team for the CCBA. Katleski was selected to judge Stout, Porter and Pale Ale, while Butler judged Amber Lagers, IPA and Best of Show. Empire began distribution in China in November 2016.
Partnering with one of China's first craft beer pioneers, Panda Brew. Empire's Slo Mo IPA, White Aphro, Skinny Atlas Light and East Coast Amber are now available on draft and in bottles throughout Beijing; and eventually, the country.
The craft beer movement in China is still in its early stages, compared to the progress that has been made in the United States. The purpose of hosting the professional craft beer competition is to encourage craft beer breweries to upgrade brewing technologies, expand brewing styles, optimism production lines and provide industry guidance. The CCBA organizers plan to host the competition annually, encouraging the promotion and education of craft beer culture.
"For the past two years I have been analyzing the Craft Beer movement in China. Many parallels can be drawn between the US Craft Beer movement twenty years ago to that of China's movement today. It was an honor to take a small part in judging of the inaugural commercial craft beer competition at the CCBA. The quality of the liquid exceeded my expectations. I look forward to working with those in China in any capacity to aid craft beer's development and I look forward to watching it flourish into a vibrant economic engine." David Katleski, founder, Empire Brewing Co. 
"It has truly been a great experience to be a part of China's craft beer movement. A genuine friendship and partnership between Empire and Panda Brew will go a long way!" Jing Zhang, Export Specialist, Empire Brewing Co. 
"With craft beer in its infancy in China, I was impressed by the current state of brewing, and found a number of entries to be exceptional." Tim Butler, Director of Brewing Operations, Empire Brewing Co. 
"I didn't know quite what to expect my first trip to China, but I was really blown away. The warm welcome from the Chinese craft brewing community and the quality of their products truly exceeded all of my expectations." Monica Palmer, Design Director, Empire Brewing Co.