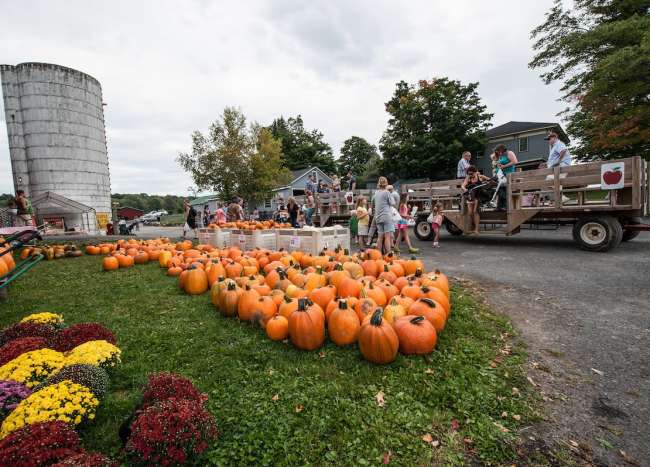 There's nothing quite like autumn in Madison County, and a huge part of that appeal can be attributed to the arrival of pumpkin season. Families can wander through acres of pumpkin patches in search of the perfect pumpkin. Visitors are invited to taste the handcrafted deliciousness of Roasted Pumpkin Ale or sample one of the many award-winning hard ciders at Critz Farms. Patrons can sip pumpkin flavored coffee and indulge in savory homemade pumpkin pie at a number of our local eateries. Or simply spend quality time with the entire family surrounded by the beauty of Madison County, where memories are just waiting to be made.
Meet Boris
Looking to add a little excitement to your fall festivities? Then Our Farm's Boris, the trebuchet, is a must-see. You won't believe your eyes when this giant pumpkin-throwing catapult, with aluminum arm, sends a pumpkin hurtling 250 feet through the autumn air. With over 1,500 pumpkin launches under his belt, Boris always sends revelers home with big smiles and lasting memories.
Adventure Awaits
Visit Madison County this fall and discover the activities and flavors of our family farms, restaurants and inns.
Pumpkin season in Madison County. It's In Our Nature.
Looking for places to hike during your visit this fall? Request your free Outdoors Adventure Map!