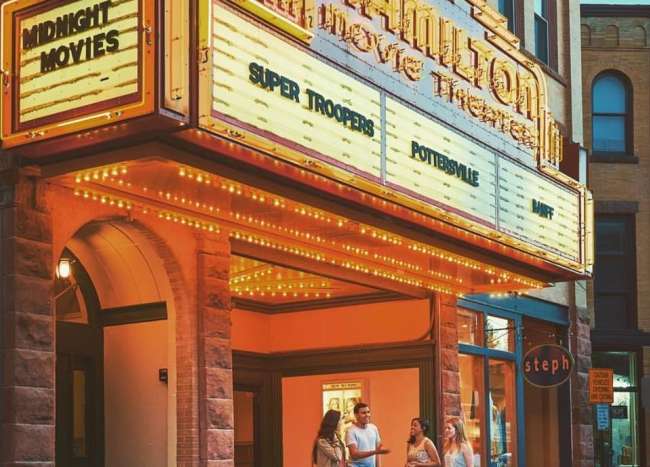 Since 1895,The Hamilton Movie Theater has served as a centerpiece for films, live performances, and community events. The theater is a great  place to book for your next birthday party or group gathering! Bring your own movie, or choose from our extensive collection.
 Theater rentals are great for, Birthday parties, Club gatherings, Reunions, Employee appreciation events, etc.
 Our rentals can be customized to your preference, from reserving the theater for private viewing of your choice, to treating your guests to popcorn, soda,  and pizza. The Theater is the perfect place for groups to gather and have a good time! Call us at (315) 824-8210 or email us to discuss your next  gathering.
One of the few remaining independent theaters, Hamilton Theater provides diverse film programming for the community, preserving and enhancing its historic tradition as a community resource. Hamilton Theater is a member of the League of Historic American Theaters.
Here are a few of the upcoming events at the theater,
2/10 - 2/26 Friday-Sundays Oscar Nominated Short Films
http://hamiltontheater.net/indie-series-resumes-three-part-oscar-shorts/
2/14 Valentine's Day Bargain NIght
http://hamiltontheater.net/valentines-day-bargain-night-matinee-prices/
2/18 Sensory Friendly Film The Iron Giant
http://hamiltontheater.net/sensory-friendly-screening-minions-12117/
3/4-4/22 Children's Matinee Series
http://hamiltontheater.net/nbt-bank-childrens-matinee-series-returns-oct-10/
3/19 Beauty & The Beast Paint & Popcorn Party
http://hamiltontheater.net/beauty-beast-paint-popcorn-sarah-fahey/
3/24 Fundraise & Abide w/ Bowlin' & The Big Lebowski
http://hamiltontheater.net/fundraise-abide-bowlin-big-lebowski/
4/2 TOSCA Italian Opera in 3 Acts
http://hamiltontheater.net/2016-17-opera-series-date-set-spring-title-tba-sponsored-michael-zahn-md/
4/14 Sushi & Belushi Night!
http://hamiltontheater.net/colgate-dining-services-presents-sushi-belushi-night-featuring-blues-brothers/