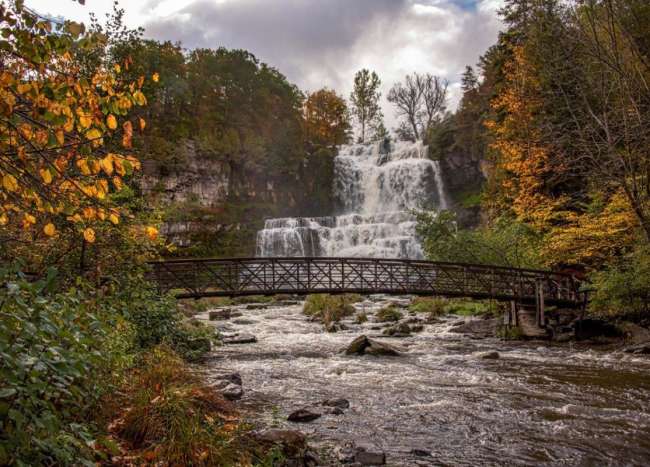 Explore the great outdoors of Madison County. Enjoy these five great fall hikes, each with their own unique features and variations of beautiful fall foliage.
This renowned multi-use trail system weaves through 13,000 beautiful acres of state forest along 130 miles of trails that are perfect for hiking and even horseback riding. Enjoy the pavilion, picnic area and RV, trailer and tent camping amenities and more. Return this winter to cross country ski and snowmobile on the same trails. Learn more about the Brookfield Trail System.
This stunning 167-foot waterfall can be viewed from atop, just a short walk from the parking lot, or by taking a winding trail down into the gorge. Cross the pedestrian bridge over the creek for a perfect photo of the falls framed by foliage. Learn more about the Chittenango Falls State Park.
Hike these three trails, which are shorter than one mile each, and find your way to a panoramic view that stretches across the Oneida Lake Plain all the way to Lake Ontario! If you visit after a heavy rain, be sure to check out the beautiful 100-foot waterfall. And bring your frisbee for the 18-hole disc golf course. Learn more about the Oxbow Falls County Park.
Birders – time your visit for the fall migration when our feathered friends depart in flocks. Madison County's only nature center has roughly seven miles of trails, including a 900-foot boardwalk that winds through grasslands and wetlands where a variety of birds and wildlife may be found. For even more excellent birdwatching, visit the nearby Anne V. Pickard Overlook. Learn more about the Great Swamp Conservancy.
Looking to combine a quick hike with another activity? Then check out these trails. The loop around the lower reservoir is approximately one-mile and two roughly half-mile out-and-back trails run along the sides of the upper reservoir. These trails are great for mountain biking or cross-country skiing and you can fish the reservoirs and even camp on the surrounding 65 acres. Learn more about the Mount Hope Reservoir.
Fall hiking in Madison County. It's In Our Nature.
Plan your hike by requesting the Outdoors Adventure Map!