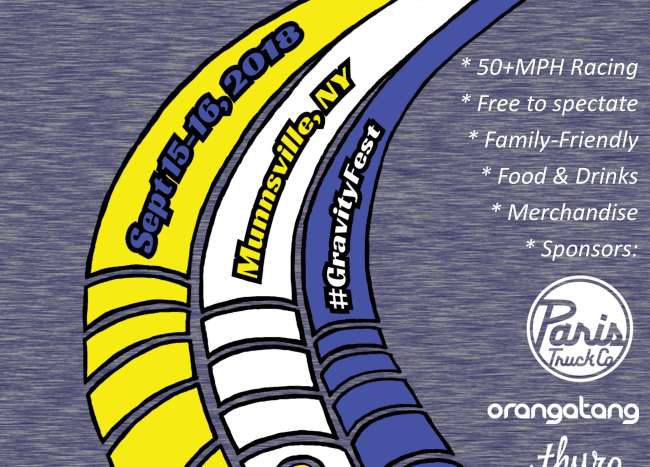 New Organizer Emgee Events LLC Is Bringing Downhill Back to Munnsville September 15th & 16th, 2018 After Multi-Year Hiatus!
Gravity Fest is one of the original and most beloved gravity sports events in the world. Originated in 2002 on Rocks Road in Eaton, NY, it soon after moved to East Hill Rd in Munnsville. It has remained ever since. 16 years since its founding, the event has run 10 times with 2 hiatuses. It ran most recently in 2015, and was on ice until Emgee Events decided to re-launch the event, with the blessing of previous organizers Dr.No Racing and the Munnsville American Legion Post 54.
The decision to bring back Gravity Fest was easy: It's the ideal "intermediate-plus" racetrack, with perfect pavement, 50mph top end speeds, smooth sweepers and the infamous "Crash Corner" right hairpin, an ideal spectator zone. The American Legion provides important local support and is very conveniently located with restaurant, pavilion and rider campground right before the finish line.
Emgee Events aims to offer a family-friendly, safe and enjoyable race experience for everybody involved, and spectators are warmly welcomed. It is free to spectate, and there will be on-site instructions for parking, with food and drinks from the American Legion and event merchandise available for sale.
Top racers from around the world are registering each day for this IDF World Cup Qualifier event. To learn more about the race and freeride, check out the official promo video: https://bit.ly/GF18promo
If you're interested in helping out, there's always need for corner marshals, setup, cleanup, hay bales and more. Use this form to sign up: https://bit.ly/GF18volunteer. All-day volunteers get free lunch and gear prizes from the event sponsors.
RSVP on Facebook for Gravity Fest-specific updates: https://bit.ly/gravityfest18 Follow Emgee Events for updates on all events, including the Killington World Cup the following weekend: https://facebook.com/emgeeevents