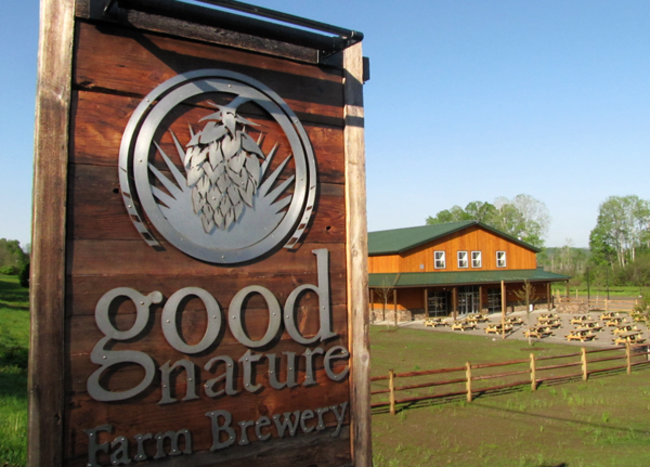 Hamilton, New York— One year ago this Friday, April 20, the Good Nature Farm Brewery opened its doors to
the public, but Good Nature Brewing (dba Good Nature Farm Brewery & Tap Room) was already a strong part
of the Hamilton community, having been founded by Carrie Blackmore and Matt Whalen in December 2010.
Now the Good Nature Farm Brewery, with its production facility, tasting room, farm-to-table kitchen, and beer
garden, is a fixture in the Hamilton landscape and a strong part of the economic fabric of Madison County and
beyond.
Good Nature grew from 10 employees at the beginning of 2017 to 34 employees at the peak of summer. In
2017, with the new High-Efficiency Brew System installed at the Farm Brewery, Good Nature converted
roughly 40,000 lbs. of New York State ingredients into about 80,000 gallons of farm-to-glass beer. In the
kitchen, local ingredients came together to feed visitors 4,499 wood-fired pizzas and 5,193 pints of fries. That's
over 4 tons of New York potatoes!
It's been a year of growth, and the Good Nature Farm Brewery has been a significant step toward fulfilling
Good Nature's mission:
To contribute to a socially, economically, and ecologically thriving community, and to
foster a sense of pride, ownership and a deeper connection to home through truly
GOOD NATURED BEER.
The Anniversary will be celebrated with a triple beer release this Friday, April 20, and Upstate Native, Jeffrey
York, will provide live music with his band, Major Player, from 9-11pm. The following beers will be released at
the Farm Brewery, and will be shipped to distributors next week:
1) Rotation Nation III: The third brew in our juicy Rotation Nation Series features a unique blend of
Azacca and Amarillo hops, which impart distinct flavors of grapefruit, lemon, peach, and overripe
mango. On draft and in 4 packs of 16oz cans to go.
Visit www.goodnaturebrewing.com/news for more information!