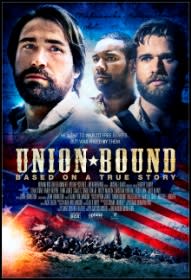 Union Bound is Bound for Peterboro the film follows Sgt. Joseph Hoover (Herkimer NY) and his friend Tom who escape a prisoner of war camp in Florence SC and with the aid of slaves make it back to Union lines.
"It took 150 years to make this movie!" exclaims Pat Ennis from Fayetteville NY. Ennis will tell the story behind the making of the Civil  War movie Union Bound at 7 pm Friday, June 9 in Peterboro NY. Ennis will be joined by Michael Davis, the producer who made the  movie Union Bound based on two small Civil War diaries of Ennis' great, great grandfather Joseph Hoover of Herkimer NY.
 As Ennis  explains, "The family had always treasured Hoover's diaries but no one had ever actually read them all." So Pat and her  husband Bryan  began "translating" the small books.  Bryan squinted through a magnifying glass to haltingly read the faded penciled  words to Pat who  typed as Bryan read. One day the pair made a special discovery that Hoover was helped in his escape by slaves.  Ennis  describes the  irony of their discovery, "He went to free the slaves, but, in the end, was freed by them!" Ennis reports that Carl  Westmoreland (Senior  Historian, National Underground Railroad Museum in Cincinnati OH) pronounced Hoover's diaries as the first  primary evidence that  Union soldiers were aided by slaves.
 Founder and CEO of Uptone Pictures, Michael Davis also co-authored a book by the same name as the 2015 film. Sean Stone, son of  movie producer Oliver Stone, plays Hoover in the movie, and Larry "Tank" Jones from the Breaking Bad TV series plays Jim Young, a  slave who helps Hoover on his way north. Davis will come from North Carolina to Peterboro on June 9th to introduce Union Bound before its showing, and sell and sign Union Bound DVDs and his book.
Union Bound relates Sgt. Joseph Hoover's service in the 121st New York Volunteer Infantry along with other recruits from the Herkimer County NY area. Hoover and friends were captured at the Battle of the Wilderness and spent four month in Andersonville prison in Georgia. They were transferred to the Florence Stockade in South Carolina, from which they escaped. With the assistance of slaves, Hoover made it back to his unit in Virginia, and after the war returned to his hometown to work as a cabinetmaker and raise a family.
The Union Bound introductions and movie program begin at 7 pm Friday, June 9, 2017 at the Smithfield Community Center, 5255 Pleasant Valley Road, Peterboro NY 13134.  The movie opens the 25th Annual Peterboro Civil War Weekend. The weekend is an educational and fund-raising event for the Smithfield Community Association (501c3) in Peterboro NY.  Saturday, June 10th hours are 10am to 5 pm and Sunday, June 11th the hours are 10 am to 4 pm. Adult admission is $10, ages 6 – 12 are $5, and children under 6 are free. $5 advanced adult tickets are available until the end of May at the Deli on the Green in Peterboro, online at mercantile.gerritsmith.org, by check or money order to Civil War Weekend, PO Box 6, Peterboro NY 13134. For more information:  www.PeterboroNY.org,  mail@scapeterboro.org and 315-280-8828.
Information: www.PeterboroNY.org, mail@scapeterboro.org, 315-280-8828